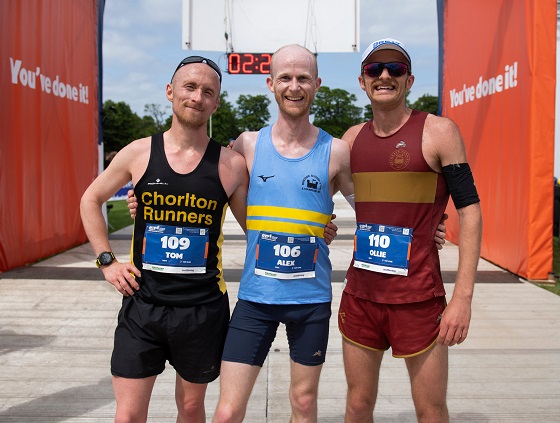 THOUSANDS of runners from all over the world gathered in Scotland's capital to take part in the twenty first edition of the Edinburgh Marathon Festival. Across the action-packed weekend, Scotland's biggest running festival featured nine races including a full marathon, half marathon, team relay, 10k and 5k, plus four junior events.
Sunday's weather made for perfect running conditions on one of the world's fastest marathon courses, where both Scottish and international runners battled it out for the top prize.

Runners were set off by inspirational Official Starter Archie Hamilton. Archie, a pupil at The Knox Academy and a talented rugby player is currently undergoing months of chemotherapy and radiotherapy in Manchester.
In recognition of Archie's role as the Official Starter for the Edinburgh Marathon, a JustGiving Page has been set up for him with the objective to raise £26,200 by the end of May, providing vital support to the family during this difficult time.
Alex Gladley (Windsor Slough Eton & Hounslow AC) raced to glory in this year's marathon with a winning time of 2 hours 21 minutes and 34 seconds.
After the race, Alex said "It was incredible out there, pretty perfect conditions, beautiful scenery and a good honest effort from myself and the others, it was a good competition.
I was going for 2.20 but when I hit half way I was feeling a bit of nausea so I thought it might not be my day. I managed to stick with Ollie for quite a while, then I got through a rocky patch and started to feel really good.
I decided to make a move with about 8 miles to go, which was a bit early to be honest, at that point I put my head down and went until the end.
"This is the first time I've run the Edinburgh Marathon but I'd love to come back and retain the crown next year, it was beautiful!"
Tom Charles (Chorlton Runners) claimed second place in 2 hours 22 minutes and 58 seconds, followed by Ollie Garrod (Belgrave Harriers) in 2 hours 24 minutes and 1 second.
The women's marathon race was dominated by Jemima Farley who led from the front with a time of 2 hours 39 minutes and 39 seconds.
"It was really tough. I ran the Edinburgh Marathon a long time ago back in 2009, it was the second marathon I ever ran. So it was great to finally run it again today."
Johanna Oregan (St Neots Riverside Runners) in 2 hours 42 minutes and 55 seconds and Rosa Donaldson (Glasgow University Hares & Hounds) in 2 hours 44 minutes and 39 seconds, completed the podium.
Durham's Kieran Walker (North East Project) stormed to victory in Sunday morning's half marathon with a winning time of 1 hour 5 minutes and 24 seconds, second place was John Bell (Inverclyde AC) with a time of 1 hour 6 minutes and 45 seconds, with Charlie Sandison of Fife AC completing the podium in third with a time of 1 hour 7 minutes and 20 seconds.
Afterwards, winner Kieran said "I loved it. I raced here last year and won, so I thought I'd give it another go. I ran London Marathon 5 weeks ago and I haven't done much training since, so I just thought I'd go out hard from the start and see what happens. These guys pushed me for the first 3 miles, but after 3 miles it was a solo run really. I'll definitely be back again next year!"
Emma Houchell of Basildon AC was the winner in the women's race with a new course record time of 1 hour 14 minutes and 50 seconds.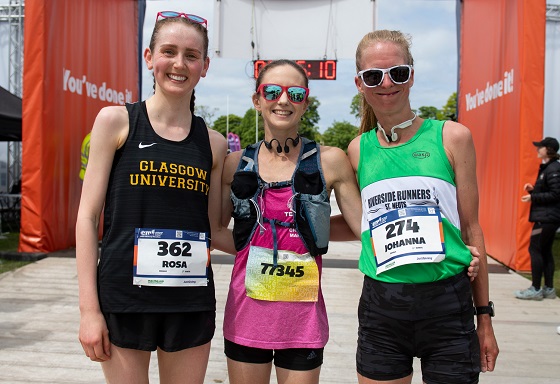 After the race, Emma said "It was really fun, I've never been at the front of a race before, and there was loads of support especially down the finish straight, it was so loud, which was fun!"
"I started off in about 4th or 5th and I was just trying to slowly reel people back in, it's quite easy to go off too hard at the beginning as it's downhill, so I was just trying to hold back at the start.
I did the Edinburgh half in 2018 and that was the last time I ran a half marathon. Me and my coach had a plan to basically take a risk, go out at a pace I wanted and see how long I could hold on for, so the last mile was very painful!"
She was followed by Naomi Lang (Carnethy Hill RC) in 1 hour 16 minutes and 15 seconds with Della Hatfield (City of Hull AC) finishing in third place with a time of 1 hour 16 minutes and 35 seconds.
Susie's Squad ran the Edinburgh Marathon Festival for Breast Cancer Now, in memory of Susie Kuszpit, who they sadly lost last year.
Susie's squad consists of 28 members running either the Edinburgh Marathon or Half Marathon to honour Susie, who sadly lost her battle with Cancer in June 2022. In November 2018, Susie was diagnosed with triple-negative breast cancer, aged only 31, eight months after giving birth to her beautiful son, Rory. Whilst Susie's initial prognosis was good, her cancer returned soon after she had her initial surgery, spreading to other parts of her body, making treatment options more limited and her cancer incurable. Susie had many lines of treatment but her condition deteriorated rapidly in June 2022 and she very sadly passed away.
Susie's sister Diane told us, "Susie really was the best of the best, everyone adored her and she made friends wherever she went. She had the most positive outlook on life, even in the worst of situations, she truly is an inspiration and we all miss her so much."
In memory and support of Susie, Susie's squad have chosen to raise vital funds for Breast Cancer Now, a research and support charity whose mission means a lot to all of them.
Susie's squad prepared well for the challenge as Diane told us, "The Edinburgh Marathon falls the day before what would have been Susie's 36th birthday so it just felt right that I run this in her memory and so many of our friends and family have agreed to join too.
Diane told us, "The main reason is to run together for a great cause, raising awareness and much-needed funds for a great and very worthy cause and to honour the memory of Susie."
Edinburgh's Holyrood Park played host to Saturday's action with the 10k, 5k and junior races kicking off the festival's lineup.
Lewis Macalpine of Stornoway Running & Athletics Club was first home in the EMF 10K race with a winning time of 32 minutes and 46 seconds.
Female winner of the EMF 10K was Sophie Marr from Tyne Bridge Harriers in a time of 40 minutes and 38 seconds.
Lachlan Thomas was the male winner of the EMF 5K with a winning time of 16 minutes and 30 seconds. Merce Sanchez Oller from Edinburgh Athletics Club stole the show in the women's 5K field with a winning time of 18 minutes and 45 seconds.
Over 1000 youngsters took part in Saturday's junior races, consisting of the 1.5k for 6-8 year olds and the 2k for 9-12 year olds, as well as both the Junior 5K and the Kids' Kilometre.
Neil Kilgour, Edinburgh Marathon Festival Director, said: "It was incredible to see tens of thousands of participants back in Edinburgh, raising millions for good causes.
"We are so proud to host a truly world class running event in Scotland's capital for runners of all ages from across the globe. Congratulations to everyone who took part. Come and see us again next year!"
Entries for the 2024 Edinburgh Marathon Festival which takes place on Bank Holiday Weekend, Saturday 25th and Sunday 26th May, are open with an early bird discount for everyone who registers before midnight on Sunday 11th June at www.edinburghmarathon.com