2 April 2023
Start Time :
8:45 a.m.
Number of Places :
60,000
The Paris Marathon is one of the most popular marathons in Europe. A scenic race through a beautiful city, passing many iconic sights.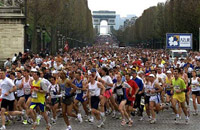 Paris Marathon Route
The starting line for the Paris Marathon is on the Avenue des Champs-Elysees. Runners head downhill and around the Place de la Concorde before turning right into Rue de Rivoli. The route then passes the famous Louvre, goes round the outside of the Place de la Bastille and on to the Boulevard Soult towards the Bois de Vincennes. A wide loop of the Bois de Vincennes returns runners to the heart of the city and Rue de Charenton, the halfway point.

The inward stretch follows the course of the Seine, passing Ile de la Cite and going under the Pont Neuf, and through a series of tunnels. For those in need, there is a large drinks station and foot massage at Trocadero, facing the Eiffel Tower. The route then continues along the Seine, before branching east towards Bois de Boulogne, finally emerging for the final 200 metres and the finish line on the Avenue Foch.


Paris Marathon Entry
* Registration Fee : € 95 (first 10,000 entries), € 100 (until 15 Sep), € 115 (until 15 Nov), € 125 (after 15 Nov)
* Registration Deadline : When the race is full.


Contact Details
Contact : Amaury Sport Organisation (A.S.O.)
Address : Boulogne-Billancourt (92100) France, 40-42 Quai du Point du Jour, Paris
Tel. : +33 (0)9 69 36 88 21
Email : parismarathon@aso.fr
Website : https://www.schneiderelectricparismarathon.com/en/