4 October 2020
Start Time :
N/A
Number of Places :
N/A
The inaugural London Marathon took place in 1981. Because of Coronavirus, the 2020 race has been scaled down to include only elite runners. For the rest of us there is the option of a Virtual London Marathon.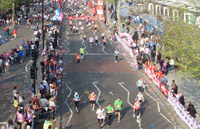 Virtual London Marathon Route
Participants are invited to complete the marathon distance at any time on 4 October, at any place of their choosing.

Some runners will no doubt be keen to run the actual route of the race. As long as they stay safe and keep their distance from others, we wouldn't advise against it. However we would add that we expect part of the route (near the finish line) to be closed off for the elite race.


Virtual London Marathon Entry
* Overseas entrants : £25
* UK Athletics Affiliated Runners: £20
* All other entrants : £20
* Registration Deadline : N/A


Contact Information
Tel. : +44 (0)20 7902 0200
Website : https://www.virginmoneylondonmarathon.com