3 October 2021
Start Time :
TBC
Number of Places :
3,500
The Chester Marathon was first run in 2010. It is a flat, fast course, offering the chance of a PB.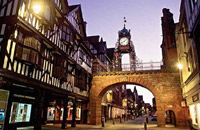 Chester Marathon Route
The race is flat/undulating and starts and finishes at Chester racecourse.

From the start line the race heads through the town, passing the local Town Hall. The also pass Chester Cathedral, the split level Middle Ages "Rows", Eastgate Clock, Amphitheatre and go through the ancient Roman Walls four times before leaving the City and heading across the Old Dee Bridge.
Runners then head out of Chester, via Pulford, crossing the border into the Welsh villages of Lavister and Rossett. The route then follows a small loop reaching the old village of Holt before crossing the ancient Roman bridge at Farndon, leading back to England.
Runners head back along the home stretch running through Churton, Aldford and Huntington to finish back at the racecourse and enjoy well-earned post run celebrations!


Chester Marathon Entry
* Standard Entry : TBC
* UKA Affiliated Runners : TBC
* Registration Deadline : TBC
* Charity Places : Runners are invited to run for Northern Lights Children's Charity.


Contact Information
Contact : Andy White, Race Director, Active Leisure Events Ltd
Address : 6 Friars House, Commonhall Street, Cheshire, CH1 2DH
Email. : andyw@chestermarathon.co.uk
Website : http://www.chestermarathon.co.uk