9 October 2022
Start Time :
8:00 a.m.
Number of Places :
7,500
The Lisbon Marathon, originally run in December is considered by some to be one of the most beautiful races in the world. There is also a Lisbon Half Marathon race.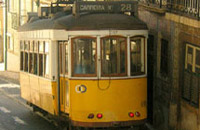 Lisbon Marathon Route
The race is a point-to-point race. It starts from the city of Cascais, heading east along the coast to Lisbon, runners following Marginal Road parallel to the Atlantic Ocean. The finish line is at Nations Park.


Lisbon Marathon Entry
* Entry Fee : € 80
* Registration Deadline : 5 October


Contact Details
Contact : Running Portugal
Address : Rua J.R. Parracho, Benavente, Portugal
Tel. : +351 916 377 806
Email : info@running-portugal.com
Website : https://www.running-portugal.com/lisbon/marathon/en/home.html


Further Information
* Cut-off Time : Runners will be expected to finish within 6 hours.