Running the Light Fantastic 5K
The inaugural Bournemouth Marathon Festival on October 5/6, 2013 opens with a series of mass participation running events capturing the imagination, challenging the body and mind, and promising lots of fun for all ages!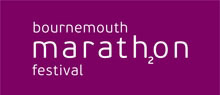 Illuminating the iconic Bournemouth's "Undercliff" promenade and the resort's iconic pier on Saturday 5 October is the Speed of Light 5k run. This exciting race is the climax of the launch day of the inaugural Bournemouth Marathon Festival.
The event starts 7pm with an emphasis on light and colour around the route, providing runners and spectators alike with an unforgettable race.
Neil Kilgour Race Director says: "The Bournemouth Marathon Festival is very proud to be presenting the Speed of Light 5k which is suitable for anyone aged 11 or above. Every runner will receive a free LED flashing armband as part of their entry to illuminate themselves and light up the course."
"The armbands are both light and comfortable to wear, and are bright enough to shine through the dusky autumn evening. They are also reusable, so ideal for those who enjoy an early morning or late-night jog!"
"To add to the visual statement we are also encouraging people to wear fluorescent clothing, and we are calling on all runners, and non runners, to get involved in helping to create this exciting spectacle. It's an extraordinary opportunity for people to take part and experience running as you've never experienced it before at dusk... all inspired by this stunning natural setting. Places are limited so don't wait to enter as entries will close September 11th or before if our course capacity is reached!"
The five-kilometre run will be the highlight - literally - of the opening day of the Bournemouth Marathon Festival, which also features two junior races, and a Supersonic 10K event, when runners and non-runners alike will be entertained by a host of local musicians.
To ensure the in Bournemouth Marathon Festival lives up to its name as a truly family-friendly festival of running, Saturday 5 October also includes two fun mass-participation junior running races across 1.5k and 3k distances suitable for 6- to 14-year-olds. Each junior finisher will receive a wicking technical finishers' t-shirt, accurate chip timing, a great medal, results posted on their my details account within 48 hrs, a race recovery pack and - of course - a fantastic running experience.
There's also another great reason to take part on October 5/6. If you're keen to help change other people's lives then you can choose to run any distance for charity - there are even instant charity marathon places still remaining for the brave!. More than 150 charities have places available, including Macmillan Cancer Support, which is the Festival Official charity, or one of the top 5 affiliate charities - RNLI, Julia's House, Stroke Association, Cancer Research UK and Breakthrough Breast Cancer. Every single charity offers runners vital support and training advice in the build up to the big day as well as tips on how to hit your fitness and fundraising goals. Marathon organisers are hoping to raise thousands for charity in the inaugural year so now is your chance to make a difference.
Thousands have already signed up for the inaugural festival of running. Entries are open for the all the Bournemouth Marathon Festival races on October 5 and 6, 2013. Just go to the website www.run-bmf.com and like the Bournemouth Marathon Festival facebook page.
The 5K Speed of Light race, Supersonic 10K and two junior races will be on Saturday October 5, 2013 and start from 2pm.
For further details, visit www.run-bmf.com or contact Bob Papworth at Coast Media on 01202 416665. Bournemouth Marathon Festival Marketing Manager Kirstie Armsworth can be contacted on 0131 208 0317 or on mobile number 07710 703 372, or via email at kirstie.armsworth@gsi-events.com