Cure the ballot blues - Entries are still open for the Edinburgh Marathon 2015
STAR in Scotland's most spectacular sporting year - that's the invitation runners who were unsuccessful in the Virgin Money London Marathon ballot received today.

Organisers of the Edinburgh Marathon Festival revealed an instant cure for the ballot blues by offering disappointed fitness fans a place in Scotland's largest running event instead.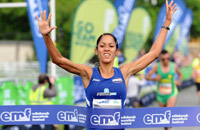 Entries are still open for the Edinburgh Marathon on May 31 2015. The big day in EDINBURGH is only FIVE weeks after London which means runners working towards a training schedule designed for London should still be in peak fitness for the race of their life in Scotland instead.
The Edinburgh Marathon will kick off an extraordinary year of sport across the country with a line-up that includes the European Judo Championships, World Gymnastic Championships, IPC Swimming World Championship and World Orienteering Championships.
With its fast and flat route, the marathon in Scotland's capital city is among the fastest in the world and a perfect choice for runners chasing a personal best. Edinburgh was recently voted the second best destination in the UK for a city marathon, behind only London and ahead of Brighton, Dublin, Liverpool, as well as Manchester. Neil Kilgour, Edinburgh Marathon Festival Race Director said: "We're there for you, particularly if you have been unlucky in the London marathon ballot."
"We look forward to delivering another outstanding Edinburgh Marathon Festival that the nation will be proud of. Make 2015 your year. If you've been training well, but not been lucky enough to win a place in the London ballot, then all is not lost. The Edinburgh Marathon Festival is only five weeks later so it's a natural alternative. When one door closes, another opens. Come join us in the UK's other world class Marathon event. There really couldn't be a better time to plan a trip to Scotland."
With runners from more than 100 countries expected to take part, the Edinburgh Marathon Festival is an ideal way to showcase the capital at its very best and compliments a year-long programme of Homecoming events designed to showcase Scotland around the world.
The Edinburgh Marathon joined the world's elite road races by becoming the first race in Scotland to be officially recognised by the IAAF, the athletics governing body. The IAAF bronze label puts the race among the top 75 in the world making it a pivotal part of the sporting calendar for runners.
The Edinburgh Marathon Festival, which in 2015 will be in its 13th year, takes place in Scotland's capital city Edinburgh and continues through East Lothian. There are seven races on offer, guaranteeing there is something for everyone from the seasoned runner to the charity fundraiser and beginners. The fun kicks off on Saturday May 30 at Holyrood Park with a 10k, 5K and two junior races. On Sunday May 31, the Edinburgh Marathon, Half Marathon and team relay starts from the heart of Edinburgh and continues through East Lothian offering stunning views and an unforgettable running experience.
The event has had an economic impact of more than £25 million for Scotland's capital and helped raise more than £30 million for hundreds of charities. Together with the Edinburgh Marathon Festival's Official Charity, Macmillan Cancer Support, organisers are hoping to break all previous records and raise even more in 2014.
Kathryn Cheshire, Challenge Events Team Manager (Running) at Macmillan Cancer Support said;
"We absolutely love the Edinburgh Marathon Festival and are honoured to be the official charity. It's such a fantastic alternative to London, fast, flat, friendly and beautiful. There's also something for everyone with a multitude of distances so your whole family can get involved. Last year we had 1700 runners raising £650,000 so it's also an event that is making a huge difference to people affected by cancer, every penny raised is vital to help us provide essential medical, practical and emotional support for patients and their families."
Entries are open for the Edinburgh Marathon Festival on May 30 and 30, 2015. Just go to the website www.edinburgh-marathon.com and like the Edinburgh Marathon Festival Facebook page.