EMF to work with Homecoming Scotland 2014
Runners from across the world are invited to star in Scotland's most spectacular sporting year.

Organisers of the Edinburgh Marathon Festival yesterday revealed they're delighted to team up with Homecoming Scotland, playing a key part in an exciting one-year programme of events and activities designed to showcase all that is great about Scotland. Entries are open for Scotland's largest running event on Saturday May 24 and Sunday May 25 2014. The festival, which is expected to attract more than 30,000 runners, will kick off an extraordinary year of sport across the country with a line-up that includes the Commonwealth Games in Glasgow in July and golf's 40th Ryder Cup at Gleneagles in September.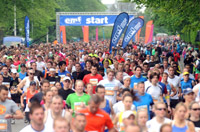 Neil Kilgour, Edinburgh Marathon Festival director, said: "Scotland is preparing to welcome the world in 2014 and we're delighted to team up with Homecoming Scotland to bring you one of the nation's most exciting sporting weekends."
"We look forward to delivering an outstanding Edinburgh Marathon Festival that the nation will be proud of. Now is the time to make 2014 your year. The earlier you sign up the better, both to guarantee a place and set aside plenty of time to work out a sound training programme so you're in peak condition on the big day. There really couldn't be a better time to plan a trip to Scotland."
With runners from more than 100 countries expected to take part, the Edinburgh Marathon Festival is an ideal way to showcase the capital at its very best and complement the year-long programme of Homecoming events.
Caroline Packman, Homecoming Scotland 2014 director said: "2014 promises to be a very exciting year for Scotland where we can celebrate all that's great about our country and place the spotlight on our greatest assets."
"We are delighted to be working with the Edinburgh Marathon Festival as part of the ever-extending Homecoming Scotland 2014 programme. The even is a fantastic tie in with our active and natural Homecoming themes for next year and presents a great opportunity for those taking part to explore the city and beyond."
With its fast and flat route, the Edinburgh Marathon Festival is one of the fastest in the world and a perfect choice for runners chasing a personal best. The Edinburgh Marathon joined the world's elite road races in 2012 by becoming the first race in Scotland to be officially recognised by the IAAF, the athletics governing body. The IAAF bronze label puts the race among the top 75 in the world making it a pivotal part of the sporting calendar for runners.
Maureen Virtue, 41, of East Lothian can't wait to sign up for EMF 2014. It will be the third time she'll run the Edinburgh Marathon and she loves the race so much it even inspired her to set up her own running group, Run for Fun.
Maureen said: "I love running and I love Edinburgh."
"I ran a personal best at the Edinburgh marathon this year, racing to the finish in 4 hours and 46 minutes. It's a beautiful route. The crowd at the finish must have been a mile long and really kept me going to get that personal best. I'm not a natural born runner. I started running after a serious riding accident punctured my lung. Running has given me back by health and happiness. I wouldn't miss it for the world."
For running pal, Callum Murray, 20, of Galashiels, the Edinburgh Marathon Festival half marathon this year was his first major race and he finished it in two hours and four minutes.
Callum said: "I can't complain with that time for my first half marathon.
"I definitely enjoyed running in the Edinburgh Marathon Festival. The crowds cheering along the way made it a great day so I'd recommend it to people out there thinking about taking on a challenge next year."
Second only to London in terms of size in the UK, the Edinburgh Marathon Festival, which in 2014 will be in its 12th year, takes place in Scotland's capital city Edinburgh and continues through East Lothian. There are eight races on offer, guaranteeing there is something for everyone from the seasoned runner to the charity fundraiser and beginners. The fun kicks off on Saturday May 24 at Holyrood Park with a 10k, 5K and two junior races. On Sunday May 25, the Edinburgh marathon, half marathon and team relay starts from the heart of Edinburgh and continues through East Lothian offering stunning views and an unforgettable running experience.
The Edinburgh Marathon Festival has had an economic impact of more than £25 million for Scotland's capital and helped raise more than £30 million for hundreds of charities. Together with the Edinburgh Marathon Festival's Official charity, Macmillan Cancer Support, organisers are hoping to break all previous records and raise even more in 2014.
Entries are open for the Edinburgh Marathon Festival on May 24 and 25, 2014. Just go to the website www.edinburgh-marathon.com and like the Edinburgh Marathon Festival Facebook page.