EMF will be biggest on record in 2018
Over 35,000 runners will take to the streets of Edinburgh and East Lothian for the 2018 Edinburgh Marathon Festival on Saturday 26th and Sunday 27 May.


The new city-centre route, which starts on Potterrow, will see participants run past the National Museum, Scottish National Gallery and into Princes Street Gardens, with the iconic Edinburgh Castle as their backdrop.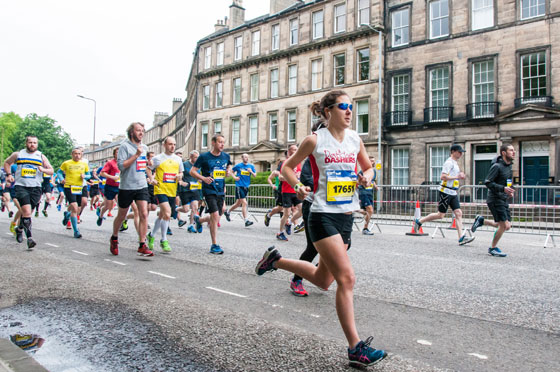 The route then takes in the Scott Monument, before heading down the Royal Mile and towards Holyrood Park, The Scottish Parliament and Royal Palace before then east towards the beautiful coastline. The marathon finishes in Pinkie Playing fields, Musselburgh as per recent years. Both the Half Marathon and Team Relay routes have had similar changes.
For the first time in the event's history, the Edinburgh Marathon Festival is working alongside not-for-profit organisation 'Project Africa Athletics' to bring in developing athletes that may not otherwise get the opportunity to take part in a race with the status of the Edinburgh Marathon. The project supports athletes from east Africa (predominantly Kenya) who do not have the required support structures in place to make use of their talents.
The project focuses on supporting athletes who have the required talent to compete outside their country, but lack the support or backing in which to do so. Joel Kipkemboi Kiptoo and Caroline Jepchirchir, both from Kenya, are the Project Africa athletes taking part in this year's event.
Kiptoo has finished in the top 10 in the Kass international Marathon, which is run between Kapsabat and Eldoret in Kenya's Great Rift Valley. The race, because of its altitude (9000ft in parts), undulating hills and talented athletes who take part, is considered the toughest marathon in the world by many. Jepchirchir ran an impressive 1hr 14mins when winning the world class Family Bank Half Marathon in Eldoret in 2015. She is building towards a big personal best in Edinburgh.
The British contingent at this year's Edinburgh Marathon Festival is also very strong, with lots of runners aiming for quick times along the new Edinburgh Marathon route. Shona McIntosh of Hunters Bog Trotters set an impressive 2:45:09 time at the ASICS Greater Manchester Marathon back in April. She looks set to be challenged by Tracy Millmore of Birtley AC who ran 2:46:09 at the Plusnet Yorkshire Marathon last October.
Carl Hardman is one to watch after running 2:19:35 in Berlin last September. He's closely followed by James Bellward, an RAF Athletics runner who clocked a 2:30 in Brighton last month, and Phil Martin of Peterborough AC who grabbed a personal best in London last year.
The Half Marathon should also make for interesting viewing with last year's female winner, Avril Mason of Shettleston Harriers, coming back to defend her title. She will be pushed all the way by local favourite Dianne Lauder who finished third in the marathon last year. In the men's half marathon race, last year's second place finisher Patryk Gierjatowicz is looking to make it one better along the new route this year. He will face fierce competition from Spaniard Severino Felipe Gomez and Sam Stead of Keswick AC, who clocked an impressive 68:29 at the Brass Monkey Half Marathon back in January.
There will also be tens of thousands of runners, each with their own reason for taking part, and with an abundance incredible stories amongst them.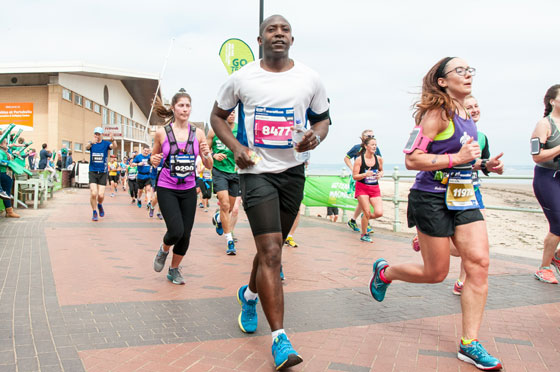 There are seven runners who are known to be 'doing a hairy' at this year's event. This consists of running the 5K and 10K on the Saturday, then the half marathon and the full marathon on the Sunday. One of them, Luca Basso from Edinburgh is running for SAMH in memory of his brother who committed suicide at a young age.
Amuz Sandhu, age 32, is running the Edinburgh Marathon to raise funds for Macmillan Cancer Support, the Official Charity of the Edinburgh Marathon Festival. Macmillan supported Amuz through difficult times after he was diagnosed with bladder cancer in January 2016. Now Amuz is determined to give something back through his fundraising efforts to help raise awareness of the disease.
Broughton Primary School have the largest group of runners taking part with over 100 pupils, teachers and parents taking part in this year's event. They have been going out on regular runs to train for their events ranging from the Kids' Kilometre to the Junior 5K.
Neil Kilgour, Edinburgh Marathon Festival Race Director, added: "Scotland is preparing to welcome the world to this amazing city and we look forward to delivering another outstanding Edinburgh Marathon Festival that the nation will be proud of. We as a team are already proud of the effort put in by all of our runners as they work hard to prepare for the big day. In our eyes, every EMF runner is elite and we value every runner's contribution to the Festival in equal measure. This year is extra special with the combination of the new routes: we can't wait!"
The Edinburgh Marathon Festival is Scotland's largest mass participation running event. There are nine races on offer, guaranteeing there is something for everyone from the seasoned runner to the charity fundraiser and beginners. The fun kicks off on Saturday 26th May at Holyrood Park with a 10K, 5K and four junior races. On Sunday 27th May, the Edinburgh marathon, half marathon and team relay start in the heart of Edinburgh and continue through East Lothian offering stunning views and an unforgettable running experience.