Elites set for quick times at 15th Edinburgh Marathon
Some of the world's fastest marathon runners will take to the streets of Edinburgh and East Lothian for the 2017 Edinburgh Marathon on Sunday 28th May.
Exciting elite fields have emerged for both the men and the women as Edinburgh continues to establish itself as one of the world's leading marathons. Athletes from across the globe will descend upon the Scottish capital looking to drop some quick times on this notoriously fast course.
In the men's field, Ihor Russ of Ukraine will start as favourite after his victory at the Kharkov International Marathon and finishing in the Top 50 at the Olympic Games in Rio - he will be looking to improve on his 2:12 personal best. Kenyan Stanley Bett will follow closely on his heels with a best of 2:14; Bett has had previous success on British soil having stormed to victory at the Bournemouth Marathon last year. This year's event also sees the return of Japhet Koech: Japhet is a regular at the Edinburgh Marathon finishing 3rd in 2016, 18th in 2015, 2nd in 2014 and 5th in 2013. Japhet featured in the cult running novel Running with the Kenyans by Adharanand Finn.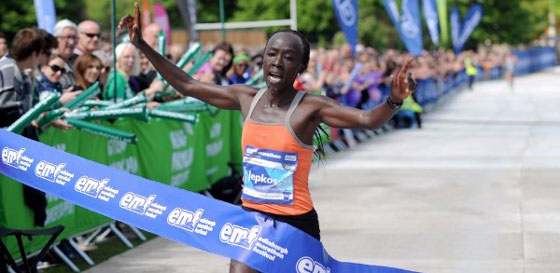 The fastest entrant the women's elite field is Belarusian Olena Duboskaya with a PB of 2:28 but she will face stiff competition from Kenyans Pennina Ndungu and Eddah Jepkosgei who was first female in the Edinburgh Marathon last year. Ukranian Valentina Zhudina could also feature as she aims to go under 2:40 in her first ever marathon debut. Valentina started to compete in the 3000m Steeple Chase as a youth representing her country internationally at U23 Championships. She became a double Olympian in the 3000m steeple chase then now her priority has changed to road racing full time and her goal for the Edinburgh Marathon is to have a strong marathon debut.
The British contingent at this year's Edinburgh Marathon Festival is also very strong. Peter Le Grice has set the quickest time this year with a 41st place finish at the London Marathon in a time of 2:23:16, closely followed by Tom Charles of Trafford AC who finished second in the Asics Greater Manchester Marathon and tenth in last year's Edinburgh Marathon.
Favourite in the British female field is Hayley Haining of Kilbarchan Athletics Club. Hayley competed for Scotland in the Commonwealth Games in 2014 and 2006. She finished 25th in the Marathon at the World Championships in 2005 and has competed in the Edinburgh Marathon in 2012, 2014 and 2016, finishing on the podium each time. Georgie Bruinvels of Aldershot Farnham is in sensational form after winning the Asics Greater Manchester Marathon this April with a time of 2:37:03. Local favourite Dianne Lauder of Gala Harriers has also had a great couple of years. Dianne finished 6th in the Edinburgh Marathon in 2016 and 2nd in the Edinburgh Half Marathon in 2015.
Freya Ross, Edinburgh Marathon Festival Elite Coordinator, looked ahead to what should be an exciting battle at the front of the race: "We're excited to see who will come out on top with some really strong runners in both the men's and women's fields. The course is quick and we're hopeful for some good running conditions which should lend itself to some fast times."
Neil Kilgour, Edinburgh Marathon Festival Race Director, added: "Scotland is preparing to welcome the world to the this amazing city and we look forward to delivering another outstanding Edinburgh Marathon Festival that the nation will be proud of. We as a team are already proud of the effort put in by all of our runners as they work hard to prepare for the big day. In our eyes, every EMF runner is elite and we value every runner's contribution to the festival in equal measure. It's great to have another stellar elite field this year, cementing Edinburgh's status as a premier global marathon with genuine world class runners spearheading the race."
Starter of the 15th Edinburgh Marathon will be arguably Scoland's greatest long-distance runner; Donald Forbes Macgregor. Donald competed in the 1972 Summer Olympics in Munich, representing Great Britain in the men's marathon event, in which he finished in seventh position. He also competed for Scotland at the Commonwealth Games in 1970 in Edinburgh, on a course which incorporates the current Edinburgh Marathon route, so it's very fitting that he starts this year's event.
The Edinburgh Marathon Festival is Scotland's largest mass participation running event. There are nine races on offer, guaranteeing there is something for everyone from the seasoned runner to the charity fundraiser and beginners. The fun kicks off on Saturday 27th May at Holyrood Park with a 10K, 5K and four junior races. On Sunday 28th May, the Edinburgh marathon, half marathon and team relay starts from the heart of Edinburgh and continues through East Lothian offering stunning views and an unforgettable running experience.