Fauja Singh launches first Bournemouth Marathon Festival

The first-ever Bournemouth Marathon Festival, believed to be the only event of its kind in the UK, was officially launched by record-breaking runner Fauja Singh - at the ripe old age of 101 years.

The world's oldest "marathoner", Fauja took up competitive running at the age of 89 and has since completed six London marathons, as well as similar events in New York, Toronto, Hong Kong and Lahore.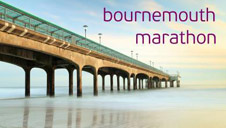 The former farmer from the Indian state of Punjab was one of the torch-bearers for the London 2012 Olympic Games, a role he had previously played at the 2004 Athens Olympiad, and he holds no fewer than eight world records as the fastest centenarian over 100m, 200m, 400m, 800m, 1,500m, one mile, 3,000m and 5,000m.
Fauja has already signed up to take part in the Bournemouth Marathon Festival over the weekend of October 5/6, when he will be joined by thousands of local, national and international runners.
At the opposite end of the age range, the youngest competitor to have signed up so far is eight-year-old Katie Few, from Verwood in Dorset. Katie, who aims to complete her second triathlon next month (March 2013), has already completed a number of charity runs and is a keen swimmer, mountain-biker and martial arts practitioner.
The final routes for the Bournemouth Marathon Festival, being held over the weekend of October 5/6, are now unveiled. The six different routes offer athletes of all ages and abilities a unique and spectacularly scenic running experience that combines challenge with charm.
"The spectacular, natural running environment and fresh air of Bournemouth and Poole will be loved by runners who want 'running as it should be'," says race director Neil Kilgour. "The Bournemouth Marathon Festival is a unique and exciting addition to the UK running calendar."
Entries are now open for the Bournemouth Marathon Festival on October 5 and 6, 2013.